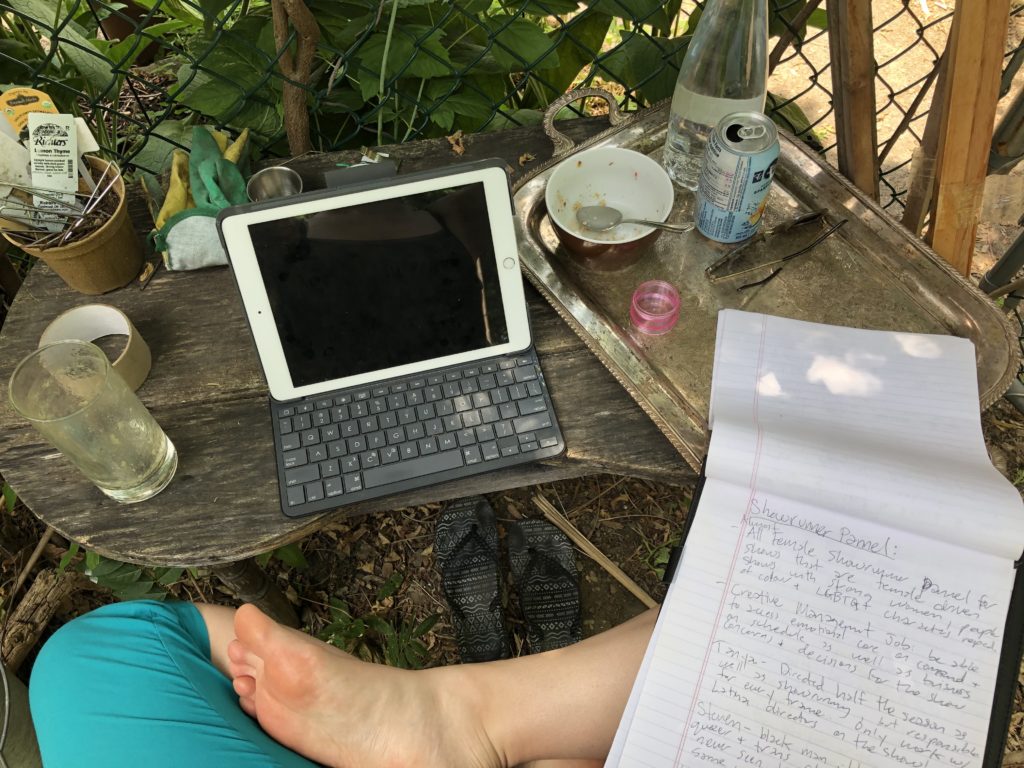 My experience of participating in the Virtual Banff World Media Festival the past few weeks has been incredible! I have learned so much from participating in the Q&A's and other presentations of the festival. I've been inspired, and have gotten excited for some of the new content that's coming out this year. And I've had some incredible new experiences of myself and the industry.
Overall I have been extremely impressed with how many of the speakers, presenters, organizers, and execs both attending the Fest and representing the Fest, seemed to have totally embraced the message of the BLM movement, as well as the Me Too movement. Focusing on how important it is for the industry to repair the enormous gaps in gender equality, BIPOC and LGBT2Q+ voices in media, by putting underrepresented people in positions of power in the industry previously held by straight white men. 
Some companies sent Black female execs to represent them and buy content, most notably the Starz exec Kathryn Tyus-Adair, who's 30 Minutes With presentation really impressed me and got me all jazzed-up for what that company has been, and will continue to do with their content. They have a very strong mandate for representing diverse voices and characters in their shows. I also loved the almost entirely female driven Showrunner Panel, which included only one man, Steven Canals (Pose), who is openly queer and of African American and Puerto Rican heritage. Well done Banff! 
I also really loved the all-female comedy hosts of the Rockie Awards from Baroness Von Sketch. And I was incredibly impressed with the presentation about the upcoming launch of the TV series Trickster, the first ever fully indigenous created, lead, crewed and performed series in Canada. It's based on the book Son of a Trickster by the indigenous author Eden Robinson. The first time Showrunner of the series Michelle Latimer, is an Aboriginal Canadian actress, director and filmmaker, and she impressed the hell out of me! Everyone involved did, really! 
It was the perfect example of what we need to be doing more of in this industry. We need to be creating opportunities for the diverse voices that exist here, but are largely unseen in the mainstream media! The show looks like it's going to be out-of-this-world awesome! And I can't wait to see it, when it finally launches on the CBC this fall. Everyone on that panel was saying that a show like this has never been done before, and has been long overdue, and I totally agree.
Why don't we see more of the people who were here first in this country, in the Canadian media? Why aren't indigenous people properly represented in Canadian television? Why are so many negative stereotypes perpetuated in the "token" characters that we do see, every now and then? Mostly, because we don't have indigenous peoples in positions of creative control, or key creative, or in positions of executive buying power, in order to make that happen. 
We say that they "don't have the experience" or "they don't have a track record to show that they can deliver a series," but how can they show this track record without begging given a chance? This really has to change! And I was so delighted to see that there is finally some movement on that front.
Now, I'm not saying everything is hunky-dory and we can all just go back to business as usual here! Sexism, racism and homophobia most definitely still exist, in a very big way, both in Hollywood and here in Hollywood North. We have a lot of work to do to clean up this mess! The exec sent by Lionsgate Entertainment was still a straight white man. And he says that Lionsgate is committed to representing more diverse voices, but that remains to be seen in reality. And I read this article today in Variety about the issue of The Reckoning Over Representation: Black Hollywood Speaks Out, But Is the Industry Listening?
The other extremely exciting update is that I actually got to Speed Pitch one of my series ideas, to an actual TV exec, who is looking to buy content at Banff for her network of channels! And she actually liked my idea! And she gave me her contact info to continue our conversation! That is a HUGE BREAKTHROUGH for me! And a dream come true!
For so many years, I thought this would be impossible for me. Who would want to hear about my TV series ideas? I'm nobody! I don't know any big A-list name actors to attach to one of my shows, and I don't have the track record to even get myself in a room with a network exec or broadcaster. I just don't have the credentials.
All of that negative self-talk was shattered that day, when I got on Zoom, face to face with an actual decision maker! I did exactly what I know to do. I asked her about herself and what kinds of content they are interested in for her network. And then I honed-in, pitching only what fit with what she told me they were looking for on the scripted side of things. She even thanked me for taking the time to ask her those questions, and getting to know what they want before pitching her. She said that a lot of people, even experienced people, will just launch right into their pitch in a scenario like this, even if it's completely off the mark, because they only have a few minutes to get it all out.
You guys (and girls and enby's)! This is a MASSIVE step forward for me in my career and self-identity! I AM a TV Series Writer, Creator, and Pitcher now! I did that! Me! All on my own. With all of the hard work I have been putting in working on my creative development (over the past few months especially). And by believing in myself and taking the risk of failure.
I am seeing that there is a chance for me, now that I'm doing the work and forcing myself to do all the things that terrify me in life. Not like it will be easy from now on, because it's not ever going to be easy, there are so many hurdles to jump over to get something made in this world. It's going to really take something. But now it's possible for me, because I created it as a possibility for myself.
This was never going to happen! I was going to spend the rest of my days frustrated by a system that did not support me, or want me involved in the conversation. And what I'm getting is that: I have to support me, I have to want me, and I have to belong myself in this industry. And only then, will others begin to see me as a real player in this game. The problem was never the system that didn't support me, the problem was always my dis-empowering story about that system that didn't support me. 
Now, thanks to the incredibly strong, smart and beautiful voices of the powerful Women, LGBT2Q+ and BIPOC creative folks, demanding a place for themselves in this industry, and demanding a change, I have a chance. They have made it possible for me to see that I am now the only thing standing in my own way. Their stand for a diversity of voices in media and entertainment, has given me the gift of taking a stand for myself, with them, in solidarity. I can finally see how my stories about "not being worthy or invited to the table," have given me an excuse not to try, so that I can avoid failure.
I've been absorbing so much content lately that I can't remember whom it was that said this, but a Black American Woman (I think she was in the Netflix doc I watched about Black female CEOs), was talking about how her mother sat her down when she got to a certain age, and had "the talk" with her. She told her something along the lines of "because you are a Black Woman you will have to work 100 times harder than any other person in this life, but you are worthy, and you deserve to have anything you want, and don't you ever let anyone tell you different!"
That comment was so powerful, and really resonated for me. And it reminded me of when I was a young elementary school child, struggling to get through my education with a reading & writing learning disability called dyslexia. I HATED elementary school! Especially anything involving too much reading, or the spelling tests. I was also the only female student identified as LD, in my special ed classroom of all boys! I was also teased and bullied constantly for being different. So, of course I hated school! I spent most of my childhood years very angry at the world for not accepting me as I was. The system was broken, from DAY 1!
I do remember my mom had a similar conversation with me as a child, after I was identified as being learning disabled. She said that "I was incredibly bright, and to never let anyone tell me different." She also told me that "I could do anything that I want to in this life, but that I was going to have to work much harder than anyone else in order to do it," and she wanted me to "build up a strong work-ethic, a drive for success, and never give up on myself."
My mom was a pretty incredible woman, and she also became a special education teacher, because of me. She wanted to give me all the tools I would need to have everything I wanted in life. And I am constantly forgetting her valuable lessons from that time. I have spent so many years of my adult life, giving up on my creative dreams, and living inside the story that "I can't do it," "I'm not good enough," and "the system is broken." But I'm getting now, that the only way to fix that broken system, is to face the fact that it's broken in my own head, and in the heads of other people too.
I've got to transform that in my own mind first, only then can I have any hope of transforming anyone else's mind, or having them see me as worthy. Mama said, "you can have anything you want in this life, but you've gotta do the work!," and I burned myself out working so hard that I convinced myself it just wasn't possible.
But that's a lie! It is possible! Incredible women are showing me that, every day! But it's going to take something! It's going to take me being able to risk more of myself. It's going to take me picking myself up when I get knocked down, and working even harder. It's going to take quitting all my complaining about how I wound up in life, and just getting down the business of making it happen for myself!
As my mom used to always say, when I was a child, screaming at the top of my lungs "IT'S NOT FAIR!" She would always say, "Life isn't fair!" And I'm still refusing to accept that. I'm still standing there indignantly, with my hands on my hips, expecting things to be different, expecting someone else to fix it for me. That's not going to happen! If I want the problem solved, I've gotta get off my lazy ass and fix it myself. That's how life goes. So here I go.