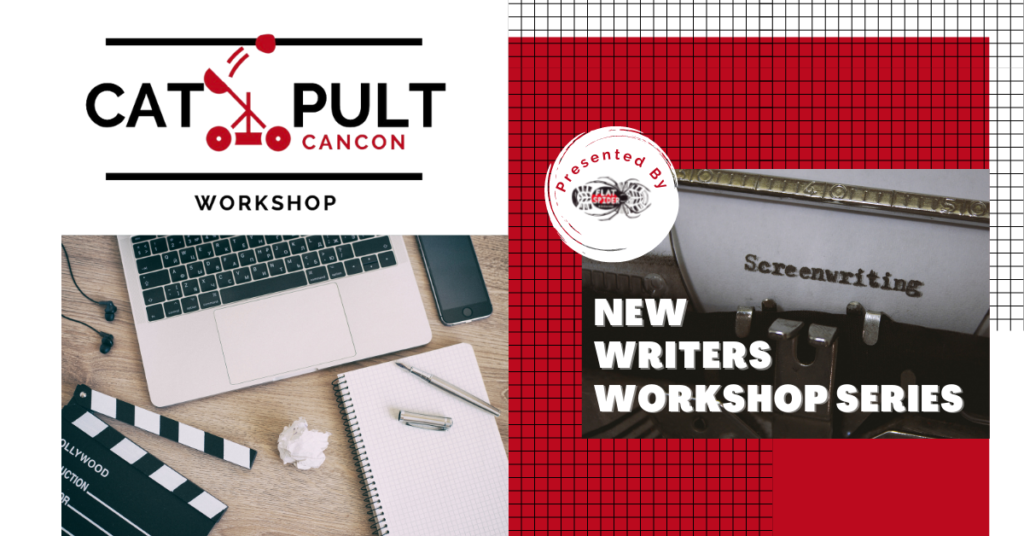 Catapult CanCon is a new writers workshop series, designed to help aspiring Canadian writers take their creative content to the next level.
This workshop will feature an array of professional guest speakers from different disciplines who are currently working in the industry as writers, creators, producers, and/or directors of amazing Canadian Content. More speakers to be announced.
We have so many talented young voices with unique stories to tell in this country. And through this workshop, we hope to introduce these new voices to some more established ones, in order to help all of us create content that is truly next level and will appeal to audiences everywhere.
Whether you are looking to create an original pilot for your portfolio to get your first job as a TV writer, develop and produce your own web series, write your first feature film screenplay, create an interactive game, or option your first script to a Canadian production company, this year long, 12 session, once per month workshop series, will take you through that process. One step at a time.
Here's the Workshop Schedule:
Session 1: From Concept to Pitch – Sunday June 6th 2021
Session 2: Research & Development – Sunday July 11th 2021
Session 3: Constructing Characters – Sunday August 8th 2021
Session 4: The Bible (Series or Interactive) & The Treatment (Feature) – Sunday September 12th 2021
Session 5: The Outline – Sunday October 3rd 2021
Session 6: The First 10 Pages – Sunday November 7th 2021
Session 7: The Middle – Sunday December 5th 2021
Session 8: The End – Sunday January 9th 2022
Session 9: The Next Draft – Sunday February 6th 2022
Session 10: The Final Draft – Sunday March 6th 2022
Session 11: Selling it! – Sunday April 3rd 2022
Session 12: Making it Happen (Production and Post) – Sunday May 1st 2022
Sessions will be held usually on the 1st or 2nd Sunday of each calendar month, starting on Sunday June 6th 2021, and finishing on Sunday May 1st 2022. Sessions will be hosted live on Zoom, recorded, and later provided to all participants.
If a participant is unable to make a session they have registered for, or they start the course mid-stream, they will get the recorded sessions they missed, so they can continue to follow along with the process. You will get the most out of the program if you have completed the work as you go along to each new session of the workshop series.
So, there is a benefit to being involved on the day at each session, so you can ask your questions and follow along with the process. This is an interactive workshop and participants will be encouraged to share their ideas with one another for the betterment of everyone's projects. One person's success is to everyone's benefit, and to the industry as a whole.
We created the CatapultCanCon Writers Workshop Series to allow emerging writers to practice their craft and create something in their spare time, while they continue to pursue their career that sustains them financially in the meantime. That is why this is a weekend course, presented by working professionals, over the course of a whole year.
Many writers starting out find it difficult to know where to begin, and once started, they often find it difficult to make progress without deadlines and others to hold them accountable to their commitment. This workshop will create that community accountability partnership, while holding your hand firmly as we drag you through a process that will get you where you want to go with your story.
By the end of this workshop series, you will have developed and written your own original series pilot, feature film screenplay or interactive project, and learned how to take the next steps towards selling it and making it happen.