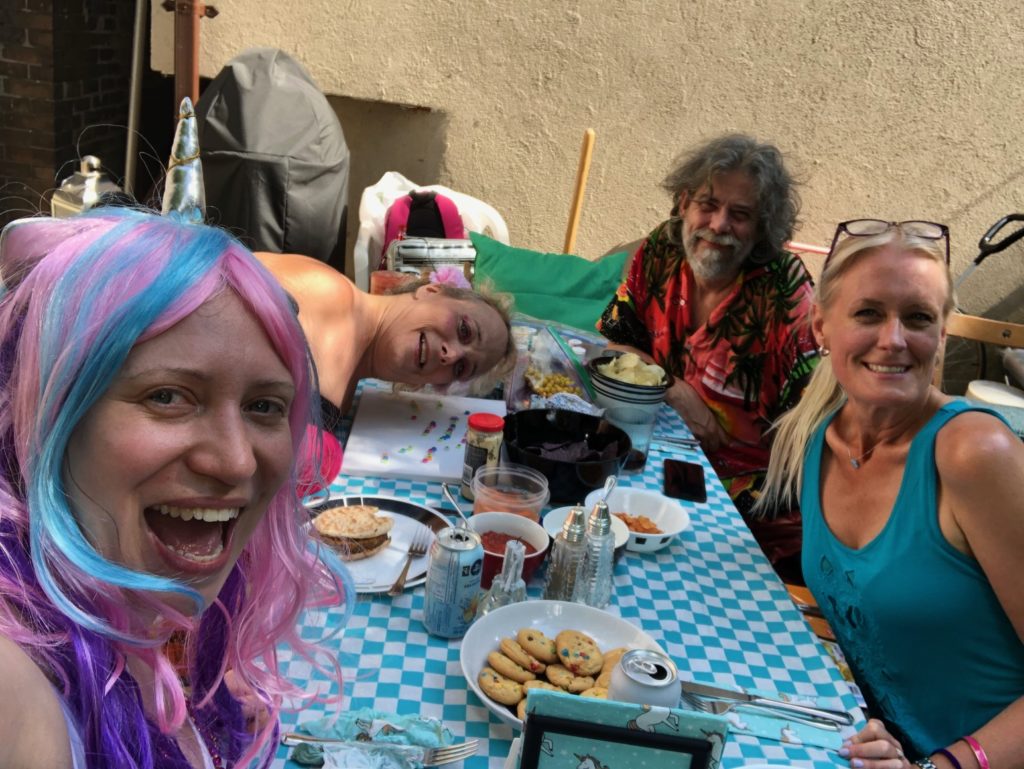 Surprisingly, 2020 COVID Pride was actually still pretty FUN!!! …All things considered. I mean, not the same at all! But it was it's own kind of fun, and I think there are lessons for me to take away from it, into future years to come. 
The Virtual Global Pride live-stream on Saturday was great for a bit. But what the hell happened to the Toronto Virtual Pride Parade on Sunday?!? The Toronto Pride website must have crashed and was down for like the whole day! And none of the local Canadian broadcasters picked up the live-stream broadcast instead. So the day just went by and nothing happened at all in the media!! 
That was total crap!! None of the broadcasters were running anything except the PGA Tour and other boring nonsense for rich straight white people. It was a bit of a slap in the face to the LGBT2Q+ and BIPOC communities, if you ask me! Like really!?! On Sunday of Pride Weekend? Nothing?! On any of the major Canadian networks about Pride?! It was so strange! And so wrong! 
But It's been a very long time since I have had any kind of not-so-socially-distant visit with more that 5 people! And I NEEDED that! BADLY!! It's been tough being alone during this pandemic. It was horrifically disappointing for me that the Pride Festival was canceled this year due to COVID-19. This is one of my fav celebrations of the year! But, we found a way to make a smaller semi-socially-distant gathering work, in my backyard garden, with six people, painting unicorns. And that was pretty good.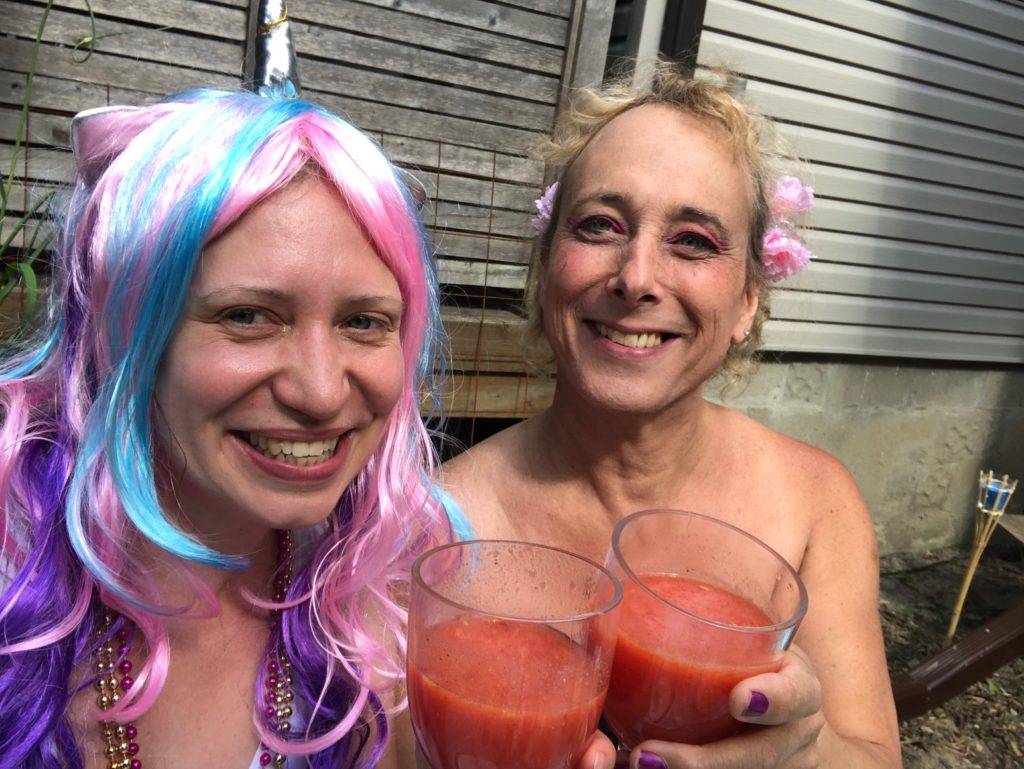 Saturday was a blast actually! My new friend Kim, whom I met through my recent online Landmark Seminar, came over for a backyard BBQ with me and my new roommate Tammy, and Tammy's best friend Rick. Then my upstairs main floor neighbour joined us as well, and later on, one of Kim's friends Greg joined us, making us 6 altogether. 
It was fantastic! Normally I would be right downtown in the thick of the fun on Church Street, singing and dancing, and drinking-it-up with thousands of people. But, not being able to do all that, this was the next best thing. And it really had it's benefits! It forced us to invent a new kind of fun that would be best for everyone's safety right now. And it actually wasn't half bad.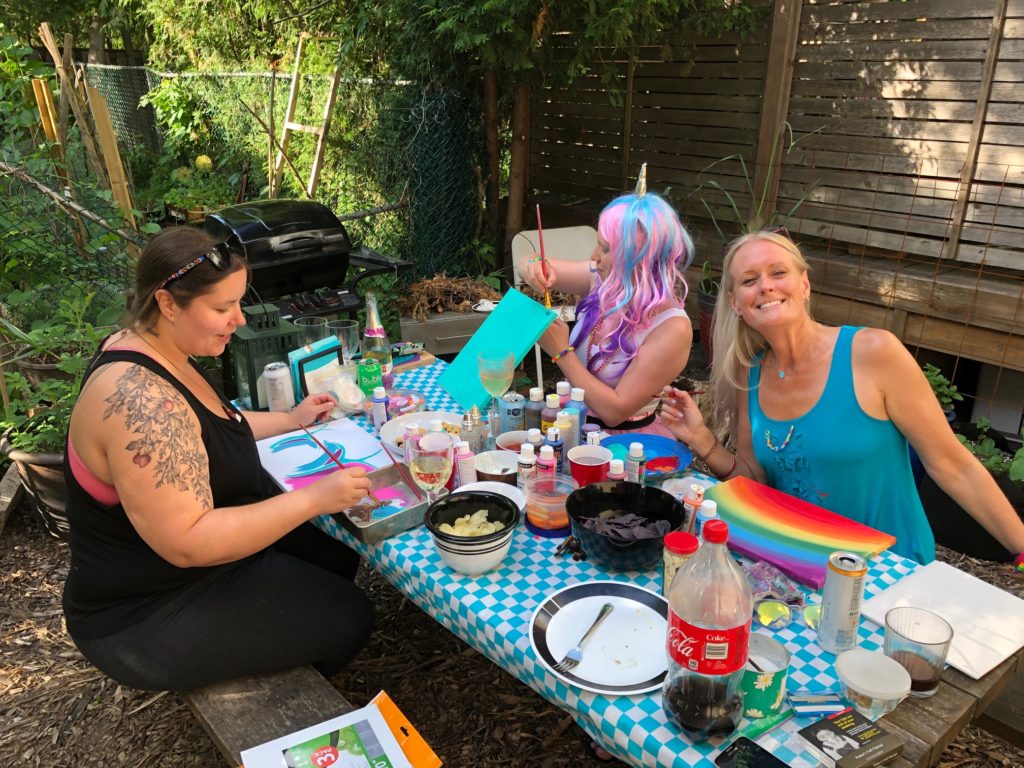 This new friend of mine Kim, of Kimberfly Design, teaches online painting classes for children and seniors, as well as for corporate team building events. She brought a bunch of art supply stuff over to my place for painting, and beads for jewelry making. So the group of us all made Pride Art, necklaces and bracelets together, sitting at the picnic table in the backyard. It was amazing!!!! 
I made BBQ burgers for everyone and we had a late afternoon lunch with snacks throughout the evening to keep things simple. We spent the whole day hanging out, and getting to know one another better while painting, crafting and having some delicious fresh fruit daiquiris. And I didn't even put any alcohol in mine! What?!?! First time waking up after a pride celebration without a hangover ever! The weather was so beautiful and sunny, and it was so good to enjoy doing art again. It's been a while since the last time I painted.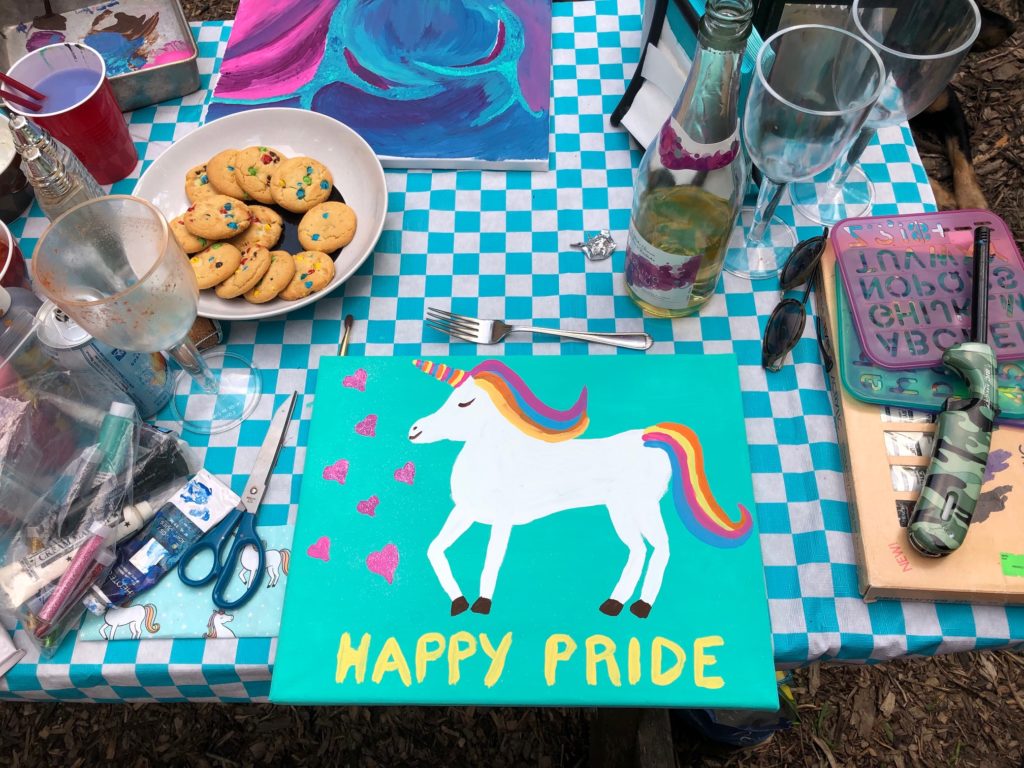 Then later when Kim invited her Landmark friend Greg over in the evening, we all talked and shared about so many different things. There was this incredible new connection, and an amazing conversation that could only happen when you're hanging out with a bunch of Landmark grads during Pride Weekend of the 2020 Pandemic. These are people who are totally alive in their personal and professional development and they really brought so much joy to my weekend. 
My neighbour friend even started picking up on some of our lingo we were using and asking questions about it, which led to some really eye-opening conversations about her life, and a sharing session that would never have happened otherwise. We all got to know each other so much more intimately than if I had just met a bunch of new randos, while partying at Pride downtown, like I usually do.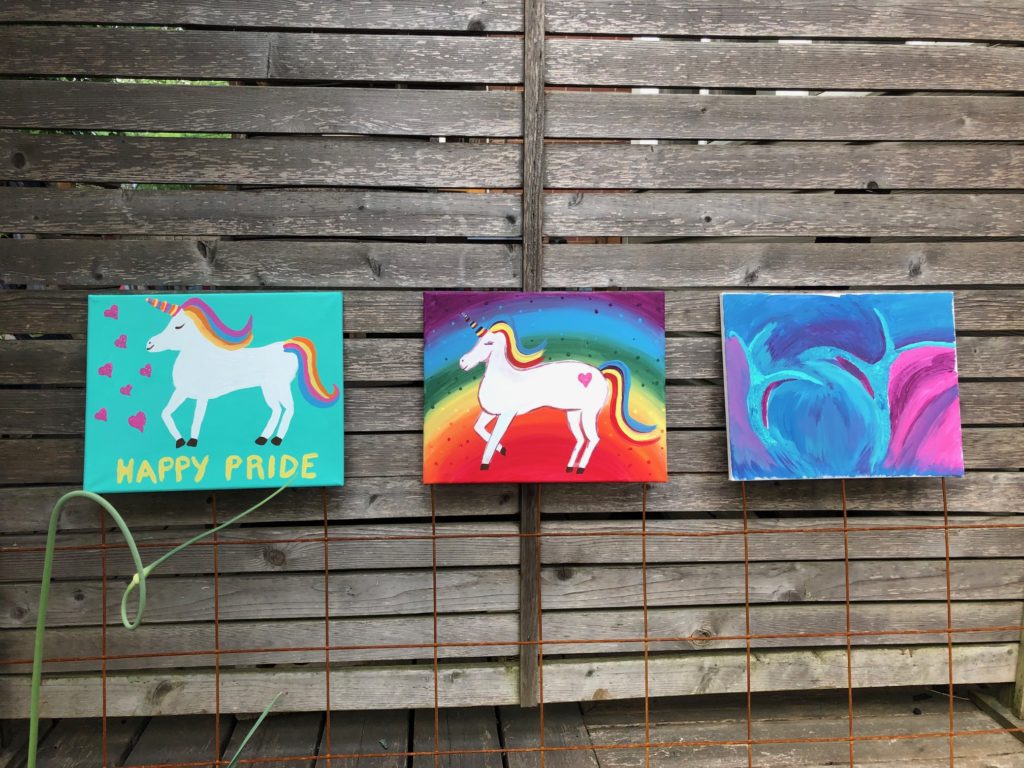 Sunday was really fun too, even without the promised virtual pride parade, and with a smaller group of friends. My friend Mel dropped by for a visit, while my enby partner and I did another painting together. And then we had more burgers and more good deep life conversations with my upstairs neighbour friend, who joined for a bit too, with her adorable dog Linda. 
It almost felt more like what Pride really should be, and I think I will put a little bit more of this creativity and intimacy into my Pride celebrations in the future. Don't get me wrong, I will always love to party and get wild! But a small intimate gathering of people, sharing their lives with each other… That was just what my heart needed this past weekend.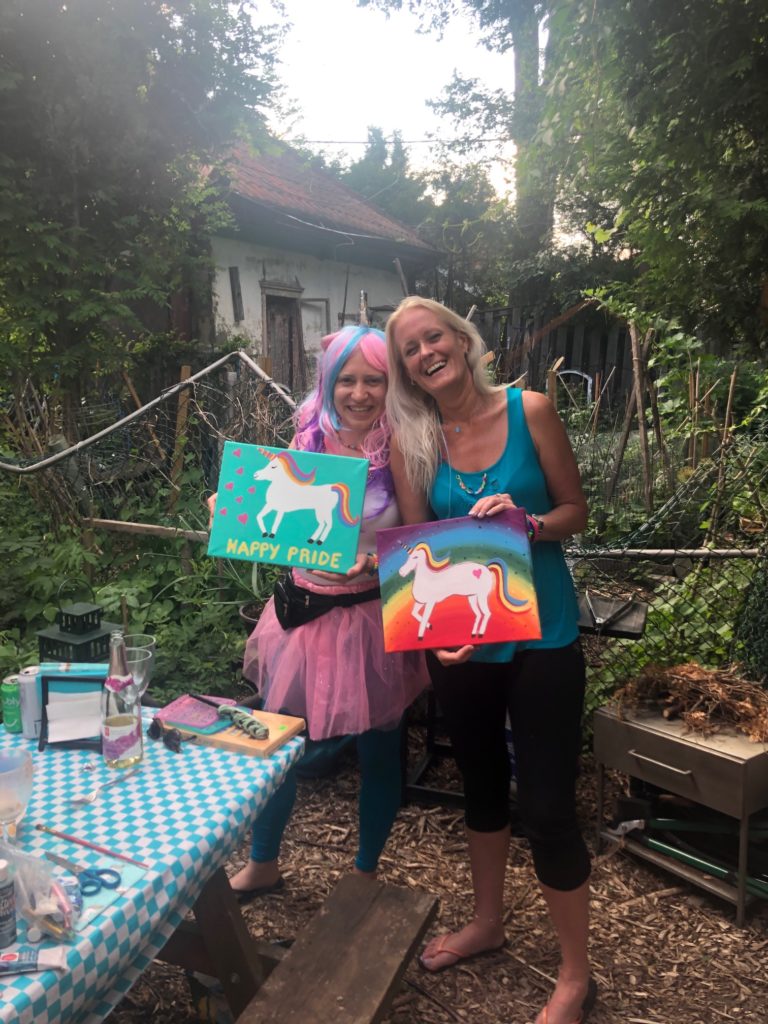 I can often get wrapped up in the party girl side of my personality, social butterflying with strangers at big events. This is exciting and gives me energy, because I'm an extrovert. But this pandemic has forced me to reduce my circle significantly, and that's allowed for me to develop closer and more intimate relationships with the few people in my more immediate circle. People who were always there, but we were always just too busy with life to really truly get to know one another. 
You would not believe the incredible impact on my life of learning to grow a vegetable garden with the other two wonderful, gorgeous, powerful, smart, witchy women who live in the other apartments of my house during COVID.
We live on a quiet street, on the west side of midtown, in an old house that's been converted into four separate apartments. The weather has been fabulous this year, and we have all found a way to share the space in the back and front yards of the house, in a way that works for everyone to socially distance, get outside and grow food for ourselves and our families.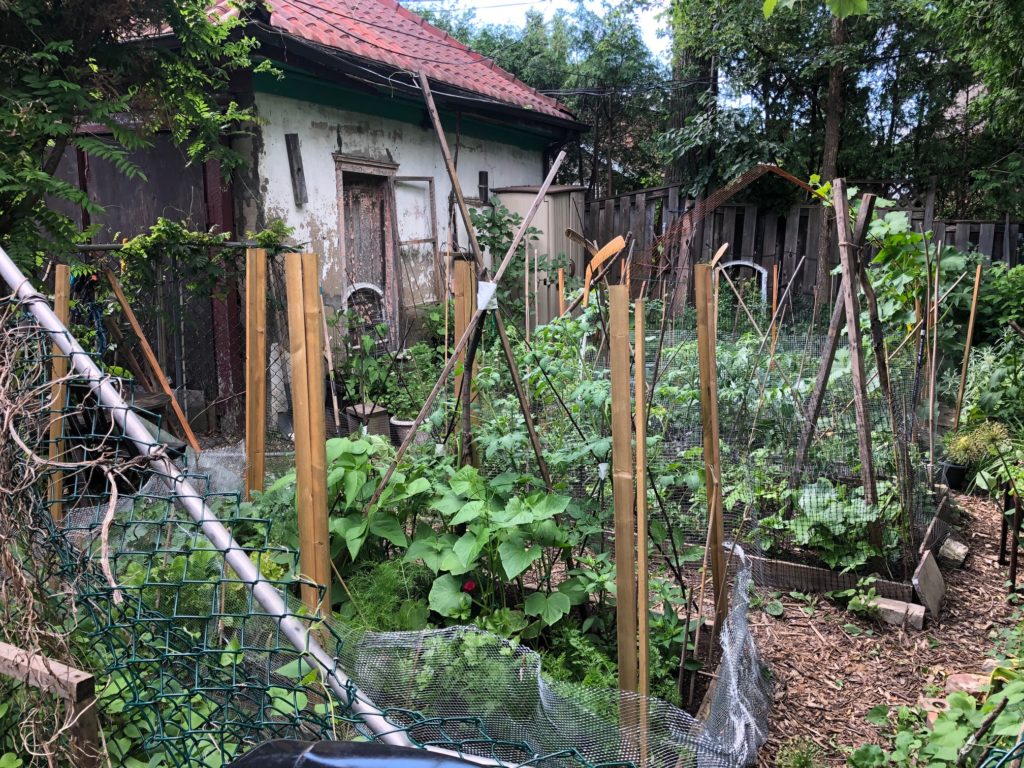 One of the ladies who lives on the second floor with her husband, is the mother of three beautiful children and she has been in charge of the backyard garden for many years. Then when the girl on the main floor moved in about a year ago, she also got involved. And this season she was able to get some grants to fund a more extensive garden project. 
Normally I would be working on production coordinating films this time of year, and almost never home. I would be working non-stop, sometime for 18 hour days, and not really getting to enjoy the best days of summer. But this year, because of COVID, I have gotten to slow down, and learn a love of gardening, from these incredible women, who are right here in my own backyard. I'm gaining so much from their wisdom.
Taking time to sit in the back garden and write most days (weather permitting) has transformed my life completely! It's boosted my mood, improved my creativity, and increased my capacity for developing a solid daily writing practice. I think this is what I want to do for the rest of my life now! I want to write, garden, do yoga, and throw small BBQ parties on the weekends in the backyard with my friends and neighbors… forever.