I have begun to learn a valuable lesson about waiting for the right time. I do this a lot in my life. I did it with my business, by not telling anyone about it, because I didn't have it all set up yet. No branding, no logo, no website, no social media presence. 
Time just flew by, and all of a sudden it was five years later, operating my business, paying my taxes, and still nothing to show for it. No one in my life even knew I had a company, apart from the few people I did contract work for over those years . 
I never used to talk much about my company, when I would go to networking events, or film festival parties. I'll talk about Mr. Viral, the film I produced over 9 years ago, before I even had my own production company. But not about any of my own personal creative projects. 
I give out business cards that say Mr. Viral and Gang Green Productions on them. I don't even have any business cards that say, Flat Spider Media on them. So, people just keep on thinking that my production company is Gang Green, or that I still don't have one. But Gang Green belongs to Alex the writer, director and exec producer of Mr. Viral, it's not mine, and I'm no longer working for the company. 
I didn't have my own branded identity when I produced Mr. Viral. And I put off doing it because getting the film done was more important. But also so that I could avoid responsibility, and use it as an excuse not to be applying for funding or development programs that I could have been applying for during that time for my own projects. 
I was getting very little done on my own projects. And, no one had a chance to hire me, or to work with me on theirs, because they didn't even know that I existed. I had not been putting myself out there. Then I was shocked and unhappy when I didn't have people pounding down my door to work with me. But I wasn't willing to put in the work to get that, so of course they weren't flocking to me. 
So I finally decided, Fuck all that Shit, I'm just going to do it anyway!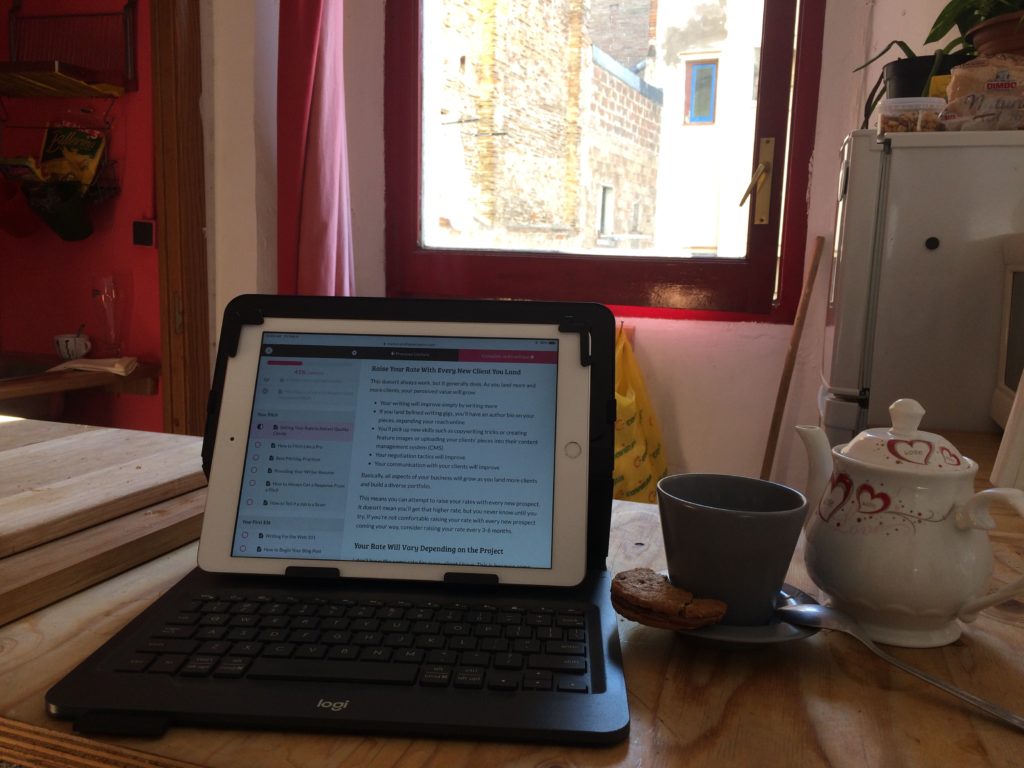 While I was doing an assignment for an online copywriting course I took last winter, while traveling in Europe, I saw a posting on the course FB group, for a copywriter / blog writer needed for an animation company. They specialize in making animated explainer videos, which are marketing videos that explain how a new app, or piece of technology works. 
I thought, this is exactly what I do, what I have done a million times in advertising, corporate videos, online marketing and branded content. I've probably produced a tone of this kind of content. And instead of letting this opportunity pass me by, because I don't have my website ready yet, why not just reach out and apply?
So I did reach out to them, with a very short email introducing myself and sending them just one link to a video that I produced to promote the IndieGoGo campaign for Mr. Viral. We raised 20k in post production / completion funding for the film. So I have proven results in this area. 
I'm sure I can do this, I said to myself. I might even be good at it, and it's something that I can do remotely, while I'm here traveling in Europe. And it would be nice to have at least one client to throw up on my website to start with. It would certainly help me attract other clients. Start with one and more will follow. 
Also they were an American client, so they would likely be paying me in American dollars. That would be even more exciting to have the money, turn into even more money, with the exchange rate, than it would be if I was being paid here in Canadian dollars. There were so many perks and opportunities, and normally I would just let it pass me by because, "I'm not ready yet." But this time I said fuck it! 
I wrote them my application letter after spending some time looking at their website, to get a feel for what they actually do. I think I wrote a good letter because of all the time I spent going through their website first. I kept my email short and to the point and didn't bother spending a long resume or anything. Just one example for them to look at of my work. 
On the morning I sent the email, I got a response back from the contact almost immediately! They wanted to set up a call that week!
Wow! Immediate results! 
I figured I might not get the job, but it is exciting enough to finally be getting out of my own way, and applying for things. To be getting out there, selling myself and my services. The feedback and results were immediately clear. If you don't try, you fail automatically. If you try, you stand at least some small chance at success. 
The proof is in the email. I am not waiting anymore, I said to myself. I'm getting things done! I'm applying for any post that really speaks to me, or seems like it would be a good fit for. Maybe I'll even apply to those I don't think I could get. I'm going to go with my gut, give it my best shot, and be happy enough that I took the opportunity to apply, even if I don't get the gig. I will be courageous, powerful, spontaneous and full of life in my career. 
I knew that this strategy was bound to have me disappointed a few times. I knew that sometimes you get a no. Or, you are just not what we are looking for, or you're just not ready, and we went with someone who had something a little more polished.  Or, we chose someone with more experience. And that's all ok, in time I will gain the experience, the skills, and I will get a yes. 
But that will only happen if I keep on taking risks, telling that little voice in my head that says "you're not ready yet" to fuck off, and doing it anyway.
So what happened?
Sure enough, after gaining their interest, showing them I could do the job and getting a thumbs up that they were going to send me some paid work asap… they completely ghosted me. I never heard from them again. All the work I did for them, doing a sample script for them, and coming up with an idea for their blog, useless. They were gone. I was crushed again.
It felt like all that work was for nothing, and I got discouraged. I stopped trying again, just like I always do. My usual pattern continued. Nothing new here. 
Now it's another year later. And I'm looking at the way I've been behaving. I gave up on myself again! Even though I said I wasn't going to do that.
I'm looking to commit to my writing practice newly. And, it's clearly not as simple as just getting excited, and starting again with a positive attitude. It never is! 
So what's missing?
What's going to make this time different from any other time, that I have started something, hit a wall with it, and then given up on myself? What's going to have me stick to it, and follow through, even when I'm getting NO's, left, right, and centre? When I'm being ghosted… or never even responded to in the first place? 
Perhaps it's time to listen to the advice of those TV writers who came into my graduating writing class at Ryerson University. The industry pros who told us, if you want to be a writer, get a joe-job at a Harvies or something that doesn't take much out of you, but pays the basic bills… And just write. Spend all your time writing, until someone gives you money to do that full time. 
It might just be time for me to do that. I've been spending a lot of time looking at jobs in grocery stores in my neighborhood lately. A couple of years ago I was looking into becoming a concierge. And a lady-date from a few months back, had me considering working as a school crossing guard. 
Anything I could do that's close to home, and doesn't take much time, thought, or energy out of me. Something that would pay my bills, get me out of the house, and physically doing something. But not something that zaps so much of my energy, that I have nothing left in me for my writing.
Perhaps this would have me committed to my writing in my off hours… However, these types of jobs generally do not pay very well. And working full time hours in order to make ends meet and cover my bills, would still leave me with very little time and energy left at the end of the day for my writing. 
I would likely fall back into my old habits. Finding excuses for why other things were more important than sitting down to get my writing done. Even in times of unemployment, like right now, and this whole past winter I had off, I still wasn't getting the work done. So it's not a matter of finding the time in the day. If I was truly committed to it, I would find the time.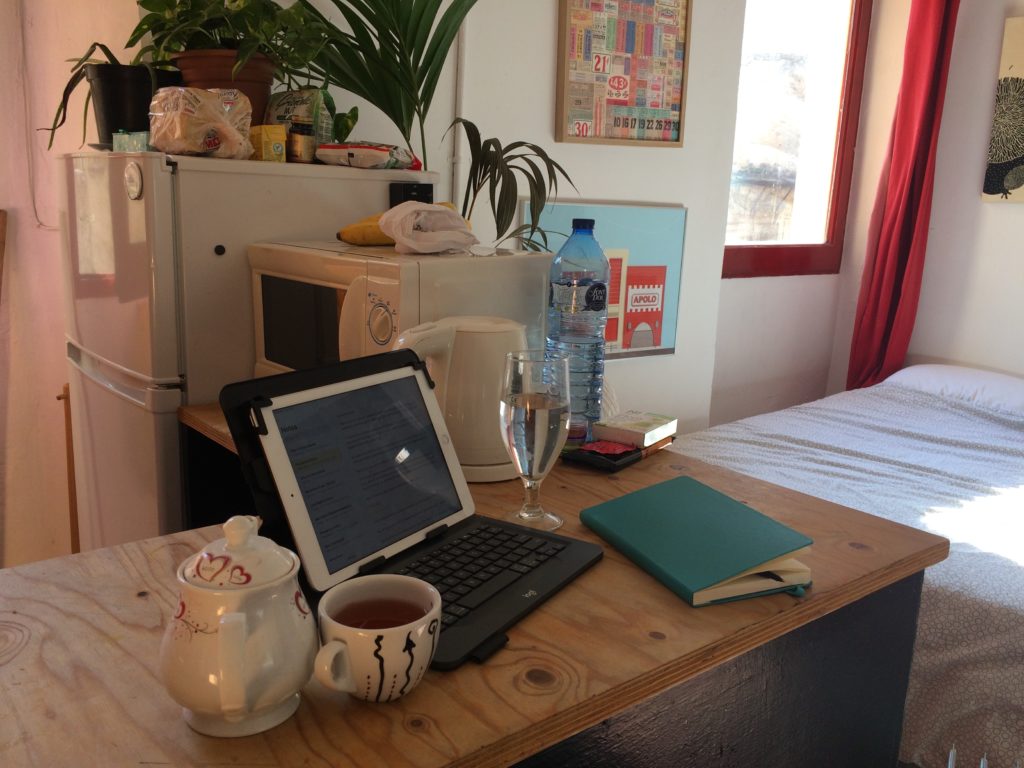 Perhaps a shift in perspective… Perhaps, if I'm not doing this work simply because someone else is going to pay me for it. If I'm not doing it only if someone validates it as worthy, good, special. What if me doing my work as a writer, had nothing to do with other people's expectations or opinions of my work?
What if me writing my thoughts, stories, and ideas down was completely separate from what I was going to get, or not get, for doing it? What if the "doing of it," was it's own reward? The learning, the enjoyment, the connection to my own sense of creativity and self expression. 
….Nah… that's not gonna happen! What a bunch of non-sense. That "think positive," "the work is it's own reward" crap never takes me very far, before I fall right back into my old bull-shit. What a sneaky little trickster I am… 
If I look at my productivity in the past, I'm usually only reliable to get something done, when I am being held accountable to it. Like in school when my assignments were due by a certain day and time. I may have still procrastinated, but I would always have my assignment ready to hand in on the due date. Even if it meant staying up all night to get it done, it would get done. 
So having someone to hold me accountable, helps, but it's not enough to have me prioritize, and manage my time, so that I don't have to pull the all-nighters.
Now, I find myself slipping back into these bad habits again, with writing my blog, or with working on my series concepts. I will often push off my writing time, until it's so late in the day that my brain is barely working anymore. I end up having to stay up until 3 or 4 am to get my words completed. My work is slower, so it takes longer to get it done, and the quality suffers too. 
Sometimes by that time, I don't feel up to working on the project I have been committed to working on. So I abandon it and instead, I start working on a new piece of writing, that may or may not be of any use. Most likely no one will get to see it at all.
Something unimportant, a throw away. Which is perhaps useful as an exercise in keeping my word to myself, and getting it done. However, the product is not really furthering my abilities, or useful to me in accomplishing my overall writing goals. 
I find myself struggling at this very moment, to complete this post in time to publish it today, because I still don't have the answers I seek. What will make me change these habits? What will prevent me from falling back into the same vicious cycle?
Over and over again I'll commit to something, I'll be excited about it, steadfast, and hungry for it, for a period of time… but then slowly I'll fall back into the bad habits of laziness and lack of productivity. Again, waiting until the last minute to complete things late at night. 
I feel like this is a conversation to be had with a friend of mine who's really good at organization, productivity, and project management, because she works as a city planner. She manages a lot of people. She'll know what to do.
Perhaps I need a little more structure than just getting 500 words done every day. Perhaps I should be creating a workback schedule for my writing time. Having long term goals, and stretch goals for that week. 
Maybe I should have to pitch ideas for my blog, once a week, to her on our call, and then create a plan for when the work for those posts will be scheduled. While having a more long term and detailed plan for working on writing my series projects, which obviously take longer, but perhaps don't need to take quite so long as they are, without more structure and supervision. 
So I had my usual weekly call with my friend, and she said, it sounded like I was just dealing with the problem of being a normal human being. Sometimes we feel like it, and sometimes we just don't feel like it, and that's life.
We can't be in a constant state of flow and excitement all the time. Sometimes we get bored, distracted, tired, and we just don't wanna. Sometimes all of us adult humans turn back into the spoiled toddlers versions of ourselves sometimes. Having temper tantrums, and refusing to take our nap. 
She said just going with the flow of what comes naturally to me with my writing is maybe not such a bad thing. She said it sounded like what I needed was more structure in the timing for the work getting done. Not so much, planning out what to write about and when. Or having to stick to that plan even when I'm not feeling it.
She made a good point, that I might be being a little too hard on myself, when I say that unplanned, free-flow writing isn't valuable.
Many times, I have set out to write something, without any sort of plan at all, and some really amazing ideas have come out of it. Ideas for a couple of TV series concepts I came up with last year… like Making it on Mars and NecroPolice. They came out of this kind of free-form, stream of consciousness, writing.
Writing whatever idea comes to me at that moment. The value of this should not be discounted, or structured into submission.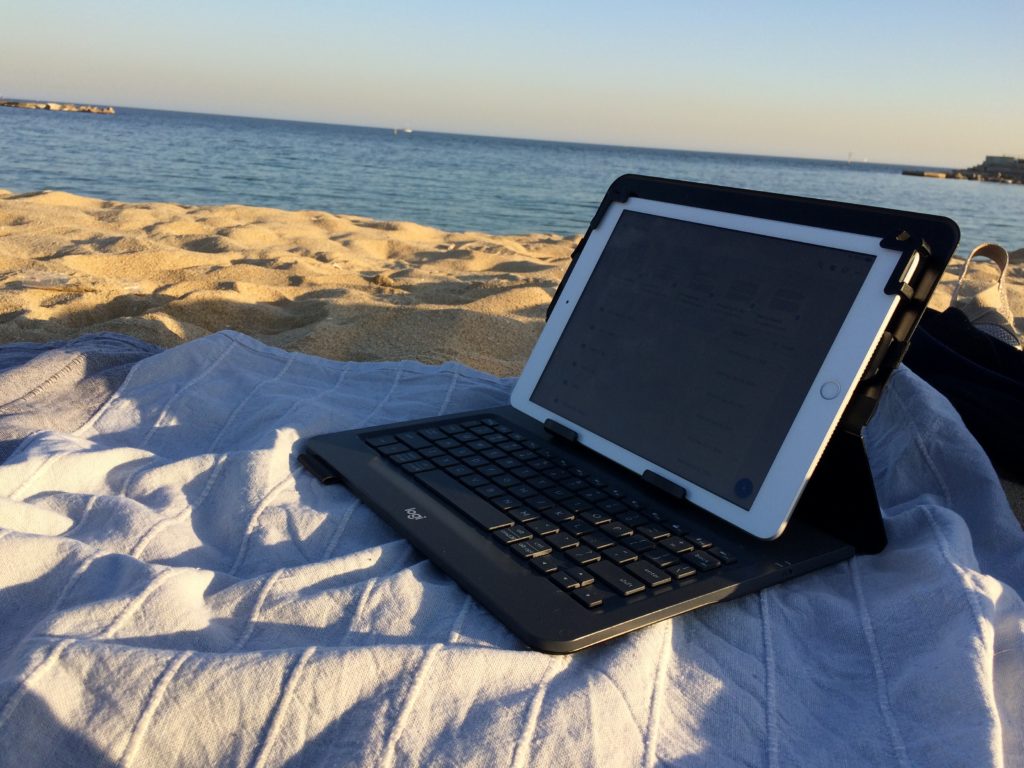 So, maybe I need to find myself a boss, project manager, or an editor-in-chief, whose job it is to just keep me on schedule. Someone I need to check in with, and report to for work each day, at the same specified time.
A time that I know I can commit to every day. A time that is early enough in the day, that if this time passes and she hasn't heard from me she can pester me about it. 
We are taking this on as an experiment, to see if it helps. 
So what have we learned?
You don't have to be ready to start, but perhaps you do need to make sure that you're accountable to someone for finishing what you started. And perhaps for me, that means turning my accountability partner, into my boss. Someone I need to punch in with, on time, each day.
Here goes.